Dry Needling - Procedure Details
---
Expertly treating pain in the Fort Lee, NJ area
What happens before a dry needling treatment?
Before any dry needling treatment, Dr. Choi will go over your medical history and perform a physical exam. He needs to determine if dry needling is right for you. If He thinks you're a candidate, he'll explain how the treatment works and answer any questions you may have.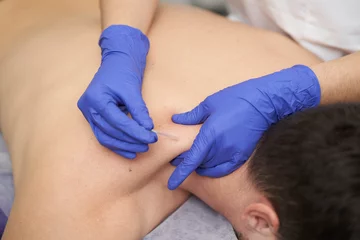 On the day of your treatment, you should dress comfortably in loose clothing. Wear something that allows your provider to easily access the treatment area. Otherwise, your provider will give you a gown or covering.
The provider will take you to a private exam room. You'll adjust your clothing as necessary, and they'll place you in the correct position for your treatment.
What happens during a dry needling treatment?
First, your provider will sterilize the treatment area and prepare the needle. Then, they'll use one hand or their fingers to feel (palpate) the area to locate the trigger point. With their other hand, they'll place the needle — surrounded by a plastic guide tube — over the area. The guide tube helps your provider accurately tap the needle into place while working with one hand.
Your provider will gently tap the needle into the top layer of your skin (epidermis) and discard the guide tube. The technique your provider uses may vary. Common dry-needling techniques include:
Superficial: Your provider will insert the needle 5 to 10 millimeters into the bottom layer of your skin (subcutaneous tissue) above the trigger point.
Deep: Your provider will insert the needle beyond the subcutaneous tissue deep into your muscle to penetrate the trigger point.
Depending on the technique, your provider may leave the needle in place for as short as two seconds to as long as 20 minutes. They may also use the pistoning technique. Also called the in-and-out technique, this method involves your provider quickly moving the needle up and down through the tissue.
Your provider may only use one to two needles during your first treatment. Once they see your response to the method, your provider may start using more needles. It depends on your condition. For instance, they may use up to 10 to 15 needles along your spine for back treatment.
During the treatment, you may feel muscle soreness or twitching. These sensations are normal and a sign that your muscles are responding to the treatment.
What happens after a dry needling procedure?
After your dry needling treatment, your provider will remove the needle and examine your skin for any reactions. They'll dispose of the needle in a medical sharps container.
Your provider will then have you get up slowly. If you're experiencing any dizziness, they'll have you sit down and rest before leaving the office.
After your treatment, make sure to drink plenty of water to stay hydrated. You may experience increased muscle soreness after the treatment but it's important to keep moving. This is normal and may last for 24 to 48 hours. You could see some bruising near the treated area. This bruising may last for up to a week.
If you experience any serious side effects, call your provider. Side effects may include significant bleeding from the insertion site, shortness of breath, or blue lips. These could indicate you have an infection. If the needling was in your thoracic area and your provider improperly placed the needle, it could cause a collapsed lung (pneumothorax). This is very rare but requires a chest X-ray and further care.
If you believe you could benefit from high-quality care, consider getting treatment from the staff at Ishitani Health Center. Our dedicated staff will be pleased to answer your questions today. We can also help you schedule a time to visit our Fort Lee office.
Call Us: (201) 302-9993
Email: info@ishitanihealth.com