Our Ishitani Health Center YouTube Channel is Live!
- Friday, April 01, 2022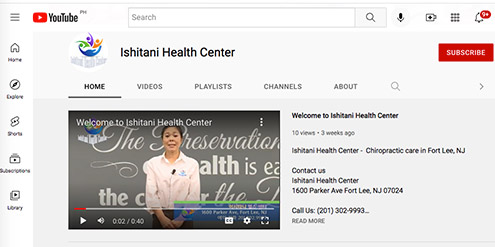 Today, family, friends, neighbors, and patient's here at Fort Lee's Ishitani Health Center, we want to introduce you to the new Ishitani YouTube video page. We encourage you to bookmark this page and return to it periodically for information that you can use to address neck pain, back pain, and headaches via chiropractic treatment, physical therapy, acupuncture, decompression therapy, and a host of other treatment methods!
If you don't know us already, you'll soon learn that we take great pride and professional reward in helping those living in pain to move forward to pain free living and a better quality of life. We gladly do this as one way to give back to the Fort Lee community who have done so much for us over the years. Web-based free education via our chiropractic and health center blog is just one element of the Ishitani Health Center's approach to health and wellness.
One quick shout out to our very own Dr. Mika Ishitani, DC. As of this day, Dr. Ishitani has finished her seventeenth year as a Board Certified Chiropractic Physician and has accomplished her 30,000th treatment service. Quite an accomplishment! We are all so proud of her and the difference she's made in countless people's life. Congrats, Dr. S!!!